Website under construction
The jpgs here are examples of the artists work.
This is an idea in progress.
None of the artists have been contacted.
Colored Stories:
Depictions of Discrimination in Narrative Art

Proposal




The first iteration of Colored Stories originally appeared in 1995 on the online site Scope Art Gallery with the subtitle was Depictions of Race in Narrative Art. Since then, the discussion of race in the US has changed with the influx of new immigrants especially Latinos and North and South Asians.
This proposal is for a show that broadens in scope to include all types of discrimination including classism, ageism, and discrimination against LGBT people.
The time frame is 1940s to present.
Other issues to be addressed:
Why is the narrative text-image format so often used for race/discrimination issues.
Why does text so often become crucial when trying to address the very specific subject of discrimination? There is an urgency in the message. Does that make the usual artistic option for multiple interpretations distracting?
Did it become codified with Jacob Lawrence and later Faith Ringgold as the best way of communicating about discrimination? Is that evidenced in David Wojanarovitch's This Boy.
Fighting discrimination may be a better title.

Define narrative art as opposed to story art although both are used by artists dealing with discrimination.
Afro Cobra
Carla Gannis
Chris Verene
Christina Marsh

Ode: Study of White, 2006
acrylic on panel
Daniel Gonzalez
Guerilla Girls
Jacob Lawrence
Jean Michele Basquiat
Jeremiah Johnson
Kara Walker
Kenneth Apetaker
Kerry James Marshall
Larry Rivers
Linda Griggs
"Scarlet Runner"
2001
oil on canvas mounted on panel
43 x 37"
Detail of Scarlet Runner
Text reads as follows:
My Great-grandfather William Barton 'Bart' Allen got away with murder.
He got a job ganging the line on the railroad tracks in Missouri. Even though he was three-quarters Cherokee he could often pass for White. The men had just gotten their lunch - one plate of beans, same as always - when the Railroad Bull, a big drunken Irishman, came down the line. The Bull reached into my Great-grandfather's plate, grabbed himself a handful of beans, and started eating them out of his fist. Bart Allen said, "If you do it again, I'll kill you." The Bull went on down the line. On the way back he did it again. Bart pulled out his gun and killed him. He went home and told his wife Pack up the children. Pick everything in garden. We're leaving." And they ran to Minnesota. It turns out my mom always knew about this and decided to keep it secret but her cousin, Ovanual, spilled the story.
Lynn Hershman Leeson
"a custom sex doll created to resemble Manet's Olympia" from the Found Object Series.
Pat Ward Williams
Rashid Johnson
Sue Coe
Theaster Gates
Virginie Sommet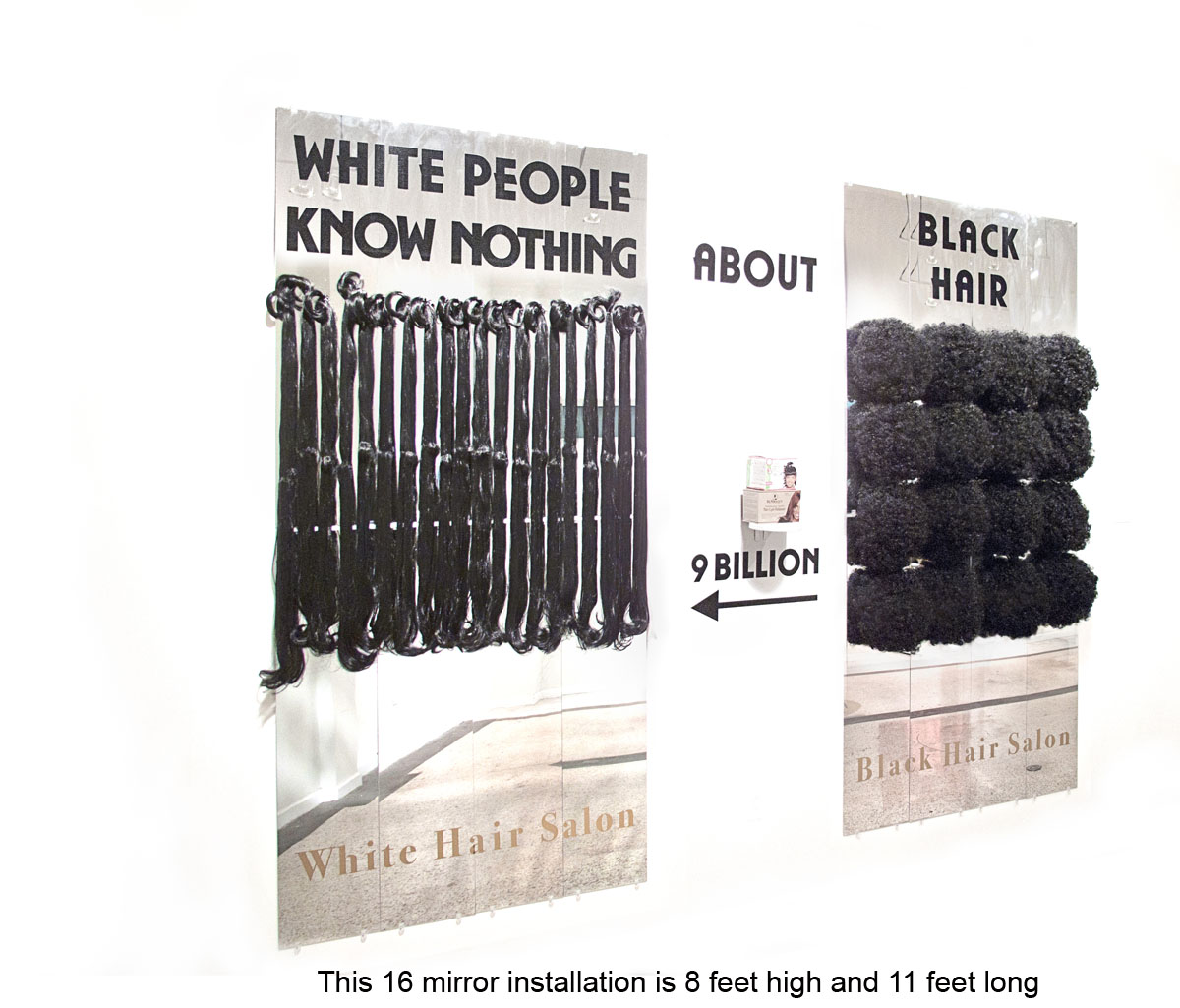 William Pope.L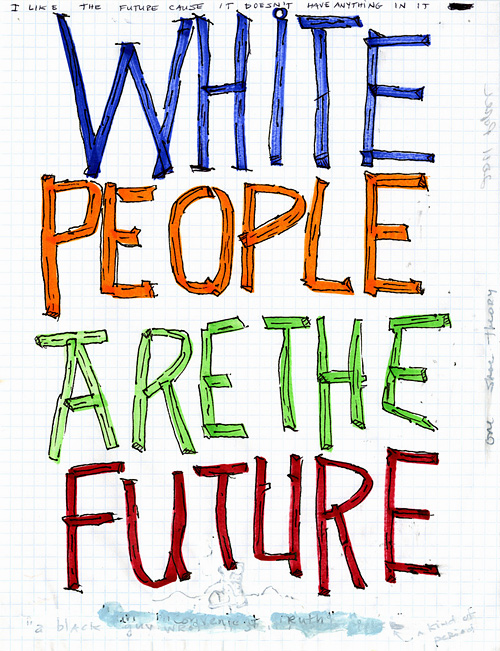 Other concepts to be considered and addressed:
Seventy years ago, half of all Americans read comic books, and much of what they saw were stereotypical images of Asian kamikazes, gurus, temptresses, and lotus flowers. How did Asian Americans read these images? How do they see them now? Jeff Yang, blogger and writer for the Wall Street Journal, curated two new exhibits at the Museum of Chinese in America that explore these questions. Through "Marvels and Monsters: Unmasking Asian Images in U.S. Comics, 1942-1986," and "Alt.Comics: Asian American Artists Reinvent the Comic," Yang wanted to address and expose the stereotypes, and show the ways in which modern comics are combating them.
...
Some African American a
rtists find the narrative art format has become such an accepted standard as to be oppressive in itself to African-American artists that choose not to make didactic narrative art.
"Melvin Edwards and his current exhibition at MoMA's PS1: "Now Dig This! Art and Black Los Angeles 1960–1980."
The article's author, Carol Kino, writes:
His longtime friend and supporter Lowery Stokes Sims, a curator at the Museum of Arts and Design, pointed out that when Mr. Edwards arrived in New York, Minimalism was the prevailing trend, and "the situation for black artists became inherently politicized," she said. "There was a debate about whether black art should be abstract or figurative. The assumption was that if you made abstract art then you were copping out, that you were choosing to be with the mainstream."
Yet at the same time, the Lynch Fragments were content-laden enough to be "tough stuff for the art world to take in."
Sequential Art: Any series of images that are supposed to be viewed in a specific order.
http://myweb.stedwards.edu/lauraah/syllabi/ARTS4399_SequentialArt_F08.pdf
Course Description: This course will take a broad look into Sequential Art: content, concept,
subject, narrative, storytelling, and much more. We will investigate many different forms, and will
study the conventions associated with this broad field of Narrative Art. This is a cross-disciplinary
course where majors from all areas can explore the form of Sequential Art in a variety of
mediums. We will look at and research diverse styles and forms ranging from the silent narrative,
the comic strip, and the flipbook, to serial photography. We will study works of art from the
ancient to the contemporary, from the high to the low, from paintings to video to alternative
comics. We will not focus on the mainstream world of comics, but rather more obscure or
alternative publications. We will not focus on the specifics of rendering, techniques, materials, or
tools. Instead each of you will be encouraged to experiment with different styles and media,
inventing and playing within the constructs of the narrative sequence.
| | |
| --- | --- |
| White: Whiteness and Race in Contemporary Art | |
December 10, 2004 – February 27, 2005
What would it mean to look at race in relation to the concept of whiteness? Until recently, discussions of race in America have focused exclusively on the experience, history, and representations of people of color. By contrast, the implications, power, and construction of the racial category termed "white," are largely invisible and unconscious. White: Whiteness and Race in Contemporary Art, an exhibition at the International Center of Photography (1133 Avenue of the Americas at 43rd Street), on view from December 10, 2004 through February 27, 2005, proposes that considering whiteness—white skin, white privilege, and even questions about what constitutes whiteness—is crucial to a fundamental shift in the way we think and talk about race.
"In mainstream American society and culture, whiteness remains an ever-present and unexamined state of mind and body, a powerful norm so pervasive that it is rarely acknowledged or even named," says guest curator Maurice Berger. "By refusing to mark whiteness—to assign it meaning—we are also refusing to see a vital part of the interpersonal and social relations of race. In the end, any discussion of race that does not include an analysis of whiteness will be, at best, incomplete."
The works represented in White: Whiteness and Race in Contemporary Art make whiteness visible and thus available to examination and discussion. Some tackle the subject head on; others handle it more subtly. No matter the approach, they offer refreshing and thought-provoking ways of thinking about race. At the same time, the exhibition affords viewers the opportunity to see work by major contemporary artists through a new and provocative lens. The exhibition features works by Max Becher & Andrea Robbins, Nayland Blake, Nancy Burson, Wendy Ewald, Mike Kelley, William Kentridge, Barbara Kruger, Nikki S. Lee, Paul McCarthy, Cindy Sherman, and Gary Simmons.
In Only Skin Deep: Changing Visions of the American Self, a major exhibition that was presented at ICP one year ago and is now touring the country, co-curators Coco Fusco and Brian Wallis demonstrated how powerful myths of race have been constructed and reinforced through photography. White: Whiteness and Race in Contemporary Art continues that discussion in a focused exhibition that is both engaging and necessary.
Works in the exhibition
Max Becher and Andrea Robbins's German Indian Series (1997-98), portraits of Germans who attend festivals dressed up as Native Americans, examines fascination with and appropriation of racial otherness. Nayland Blake's Invisible Man (1994) addresses the mutability and complexity of race, drawing on the artist's biography and children's tales. In Untitled (Guys Who Look Like Jesus) (2000-01), Nancy Burson set out to create a photographic portrait of contemporary conceptions of Jesus Christ. Including both portraits of men who answered a casting call for people who look like Jesus and a composite of representations of Christ in Western art, Burson investigates the meaning of the white, European-looking version of godliness. Wendy Ewald's White Girl's Alphabet—Andover, Massachusetts (2002), a project created in collaboration with teenage subjects, represents a poignant, humanistic exploration of the vulnerabilities and ambivalence that underwrite both whiteness and femininity. William Kentridge's Drawings for Projection Series: Johannesburg - 2nd Greatest City after Paris; Monument; Mine; Sobriety, Obesity, and Growing Old (1981-91) is a series of short films that explores the complex and often fragile realities of white power and black subservience in apartheid-era South Africa. Barbara Kruger, in a work specifically commissioned for the exhibition, creates a large-scale photomural on the arbitrary and provocative nature of the words we use to define race. In Nikki S. Lee's The Yuppie Series (1998), the Korean-born artist infiltrates and documents the world of mostly white, economically privileged Wall Street professionals, meticulously adopting her colleagues' code of dress, behavior, and living habits, revealing them as definable and anomalous. Paul McCarthy and Mike Kelley's Heidi (1992), an hour-long video, challenges the myth of the wholesome white middle-class family. Cindy Sherman's early series of photographs Bus Riders (1976/2000), depict the artist masquerading as bus passengers, in a range of racial and class "types" that include some of the earliest attempts by a visual artist to see whiteness as both a racial category and a stereotype. In another series, Untitled (2000), Sherman fixes her lens on white women, moving through a range of often stereotypical character types, from female executive to WASP matron. Gary Simmons's Big Still (2001), an enormous, whitewashed moonshine still, is a monument to the world of white poverty — the hillbillies and "white trash" of depression-era America — that has been erased from mainstream history and culture.
About the curator
Maurice Berger is a Fellow at the Vera List Center for Art and Politics of the New School for Social Research in New York and Curator of the Center for Art and Visual Culture at the University of Maryland Baltimore County. His articles have appeared in many journals and newspapers, including Artforum, Art in America, The New York Times, Wired, and The Los Angeles Times. He is the author of the critically acclaimed White Lies: Race and the Myths of Whiteness (Farrar, Straus & Giroux, 1999), which was a finalist for the 2000 Horace Mann Bond Book Award of Harvard University. He is the author of eight other books: Labyrinths: Robert Morris, Minimalism, and the 1960s (Harper & Row, 1989), How Art Becomes History (HarperCollins, 1992), Modern Art and Society (HarperCollins, 1994), Constructing Masculinity (Routledge, 1995), The Crisis of Criticism (The New Press, 1998), Postmodernism: A Virtual Discussion (Georgia O'Keeffe Research Center/CAVC, 2003), Masterworks of the Jewish Museum (Yale, 2004), and Museums of Tomorrow: A Virtual Discussion (Georgia O'Keeffe Research Center/CAVC, 2005).
Catalogue
White: Whiteness and Race in Contemporary Art is accompanied by a 117-page catalogue edited by Maurice Berger, published by the Center for Art and Visual Culture, and distributed by Distributed Art Publishers (DAP). In addition to a curatorial essay by Berger, the book contains essays by Wendy Ewald, Artist in Residence, John Hope Franklin Center, Duke University; David R. Roediger, Babcock Professor of Afro-American Studies and History at the University of Illinois Urbana-Champaign; and Patricia J. Williams, James L. Dohr Professor of Law, Columbia Law School.
Film Festival
In association with White: Whiteness and Race in Contemporary Art, The New School will host the first film festival devoted to the issue of whiteness. White: A Film Festival—organized by exhibition curator Maurice Berger—will explore the ways that whiteness as a racial concept has been represented in American films over the past half-century. Like its companion exhibition, it will examine work that focuses on white attitudes, sensibilities, and behavior in relation to such issues as racial purity, interracial love, economic class, masculinity, power, and racial prejudice. The Center for Art and Visual Culture (in cooperation with participating institutions) will publish a brochure that will include film credits and synopses, as well as an essay by the curator. Among the films to be shown are: Imitation of Life (1959), To Kill A Mockingbird (1962), The Watermelon Man (1970), White Dog (1982), Hairspray (1989), Bamboozled (2000), and Far From Heaven (2002). The festival is scheduled to take place at the Tishman Auditorium of The New School, from Friday through Sunday, February 18-20, 2005. It will be co-sponsored by the Center for Art and Visual Culture, University of Maryland Baltimore County, as well as The Vera List Center for Art and Politics and The Wolfson Center for National Affairs at The New School.
Acknowledgments
White: Whiteness and Race in Contemporary Art was organized by the Center for Art and Visual Culture, UMBC, Baltimore, Maryland. Generous support for the exhibition comes from The Andy Warhol Foundation for the Visual Arts, the Elizabeth Firestone Graham Foundation, The Dorothea L. Leonhardt Foundation, Inc., and the Maryland State Arts Council. The New York presentation received additional support from Richard and Ellen Kelson.